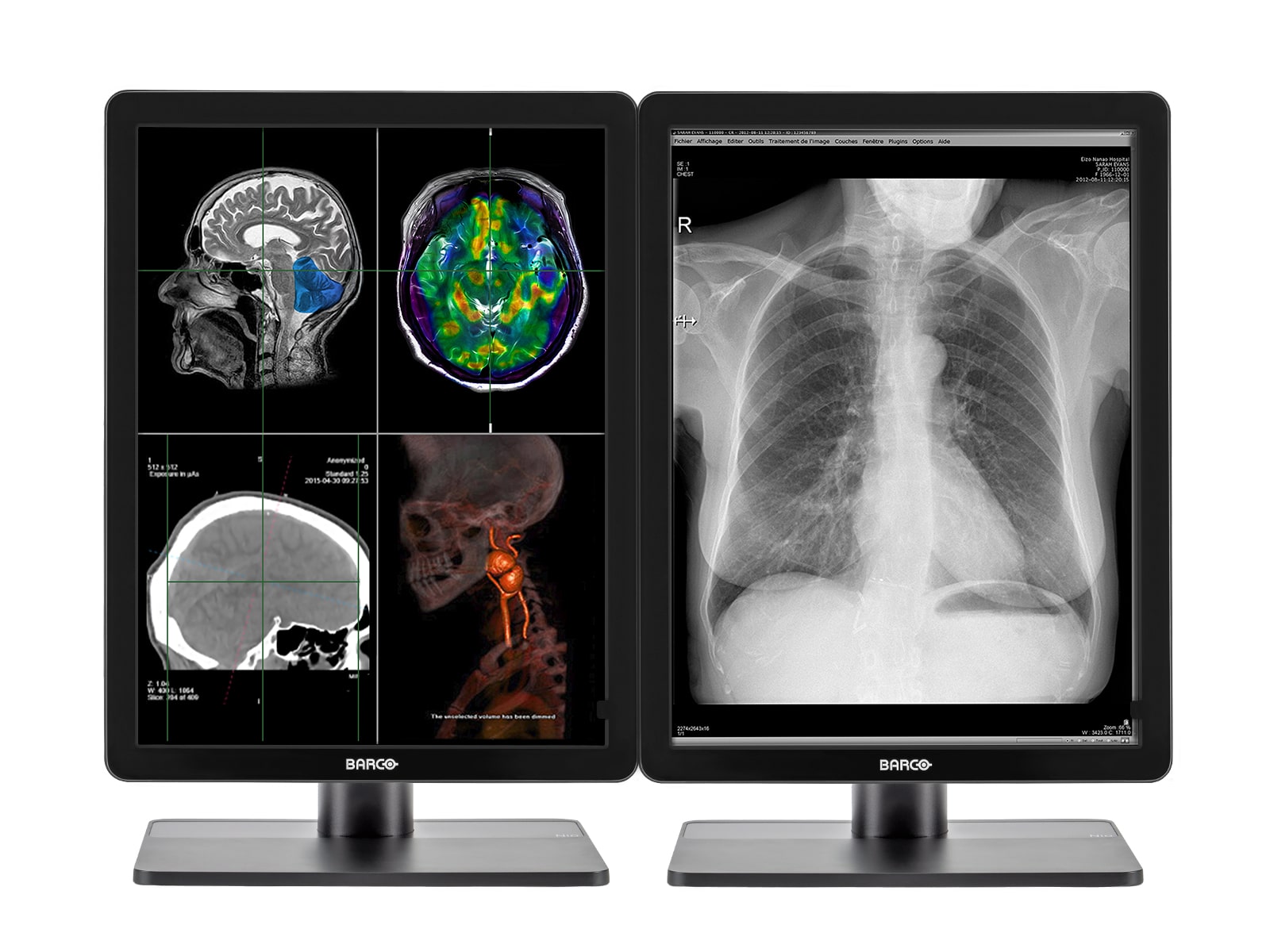 Barco® Nio MDNC-2221 2MP 21" Color LED Diagnostic Radiology Display Monitor (K9601788)
Renewed / Pair / W/O Protective Glass
The Barco® Nio MDNC-2221 is an effective display solution for various radiology imaging modalities, including 3D PACS, 3D echo, ultrasound, orthopedic imaging, CAD, image fusion, nuclear medicine, and PET.
Flexible Design
The MDNC-2221's 2MP (1,600 x 1,200 pixels), 21-inch screen offers a large viewing area with a viewing angle of 178°. The Barco® MDNC-2221 is available in a single- or multi-head configuration, with excellent color matching between displays, and is usable in portrait and landscape orientation.
Superior-Quality Image
Because of its LED backlights and uniform luminance technology, the Barco® MDNC-2221 consistently produces high brightness levels across the screen, avoiding any dim spots that could veil abnormalities. Along with the 30-bit lookup table, these features enable greater shades of colors and grays to be visible and subtle details easily distinguished.
A unique front-of-screen sensor helps to produce a highly accurate and consistent image at all times, which boosts radiologists' confidence in their diagnoses.
Automated DICOM Calibration and QA
You don't have to think about calibrating your equipment or manually performing QA checks ever again. Instead, focus on what you know and care about, Reading images. Without interrupting your reading sessions, integrated MediCal QAWeb® software automatically calibrates the Barco® MDNC-2221 so that you're always viewing perfect DICOM images.
Longevity and Low Cost of Ownership
Performance degrades over time with any monitor, causing money to be spent on frequent maintenance and repair or early replacement. Fortunately, the Barco® MDNC-2221 has features that help to mitigate this common problem.
For example, brightness levels of monitor screens tend to dim gradually, negatively impacting image quality. To compensate for this inevitability and maintain brightness levels that comply with DICOM, the Barco® MDNC-2221 has a Backlight Output Stabilization (BLOS®) sensor that measures the brightness of the monitor's lamps and then communicates with the monitor's electrical panel to increase brightness levels as needed. The BLOS sensor also ensures fast power-up.
Overheating is a primary culprit for damaging electronic components. The Barco® MDNC-2221 uses mercury-free, energy-efficient LED backlights, which emit less heat, consume less power, and last longer, all of which contribute to extending the monitor's life.
Features at a Glance
30-bit lookup table enables more shades of color and gray and, as a result, a more accurate image

Excellent brightness, uniformity, and contrast

BLOS sensor helps to extend the life of the monitor and maintains compliance with luminance requirements

LED backlights improve image quality and consume less power

Medical QAWeb software automates compliance and QA.

What's Included
Display Controller (Graphics Card)

Calibration Software

Accessories
Tech Specs
Manufacturer
Barco®
MFG. Part#.
K9301648B, K9601789, K9601788
Screen Type
Color
Resolution
2MP (1600 x 1200)
Pixel Pitch
0.27 x 0.27 mm
Contrast Ratio
1400:1
Aspect Ratio Hv
4:3
Calibrated Luminance
500 cd/m²
Max Luminance
800 cd/m²
Calibration
Auto (built-in front sensor)
Backlight Sensor
Yes
Front Sensor
Yes
Ambient Light Sensor
Yes
Backlight
Yes
Screen Technology
IPS-Pro
Active Screen Size (DIAGONAL)
540 mm (21.3")
Active Screen Size (H x V)
432 x 324 mm (17.0 x 12.8")
Video Input Signals
DisplayPort
Recommended For
All digital images, except digital mammography
3D Tomosynthesis
No
Viewing Angle (H, V)
178°, 178°
Mount Type
VESA (100 mm)
Dimensions (W x H x D)
378 x 525 x 235 mm (14" x 20.6" x 9.2)
Power Consumption
50 W
Power Requirements
100–240 V
Weight
28 lbs (12.6 kg)