Note:
We can customize this workstation to your specific needs (upgrading storage, memory, graphics cards, etc.). Please contact us with your requirements and we will provide you with a quote on a custom solution to meet your needs.
Harness the power of performance and reliability with the Precision T3630 Workstation from Dell. Built with a smaller, yet expandable design, this system is powered by a 3.2 GHz Intel Core i7-8700 6-Core processor which will allow you to run multiple applications simultaneously. If more power is needed, the CPU can deliver extra performance by increasing its clock speed up to 4.6 GHz utilizing Intel's Turbo Boost 2.0 technology.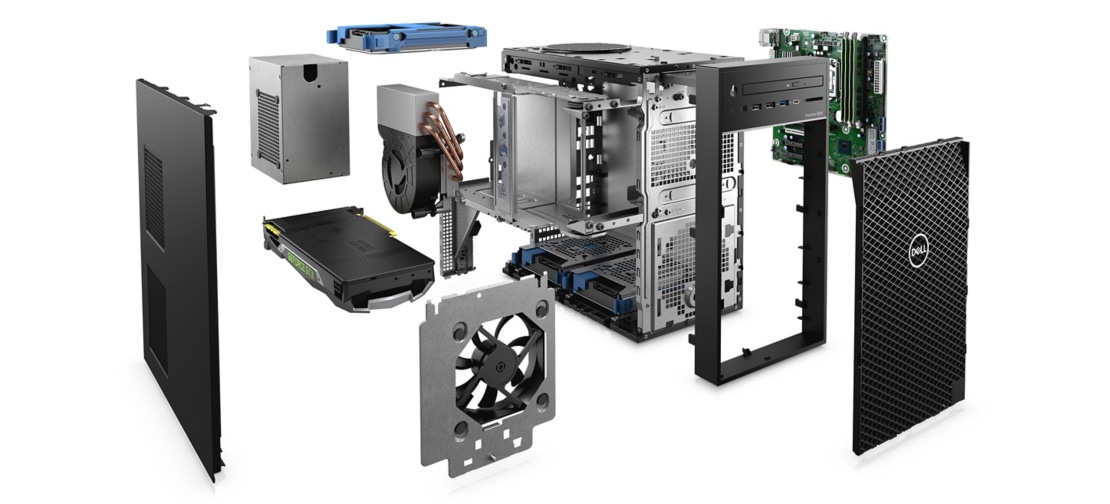 Unmatched performance and affordability
Get ultimate power without sacrificing your budget on the affordable Dell Precision 3000 Series workstations. Elevate your ideas with professional performance, compact industrial designs, and Dell's Reliable Memory Technology Pro.
Professional performance
Blaze past limits: Power through the most intensive tasks thanks to the latest 9th generation Intel® Core and Xeon® processors and faster memory speeds of up to 2666MHz.
Expandable and flexible: Scalable storage featuring SATA, SAS, and PCIe NVMe SSDs can be configured for up to 28TB delivering top performance for complex projects. Plus, Intel® Optane Memory massively boosts your system's responsiveness while keeping high capacity storage costs to a minimum.
Intelligence that matches your Dell Optimizer for Precision is a built-in AI platform that learns how you work and continuously adapts to your style to create a smarter, more personalized, and productive experience.
ExpressResponse: Launch your most-used apps faster. We use built-in AI and Intel Adaptix Technology to adjust performance levels where you need them most.
Make room for your ideas
Small space? No problem: Your Precision 3630 Tower features an industrial design that's twenty-three percent smaller than the previous generation with more expandability.
Premium design: Handle demanding tasks with ease thanks to premium materials that leave a small footprint without sacrificing quality. And the optional external dust filter keeps those superior internal components pristine.
Quick accessibility: A range of easy-to-reach ports keep you connected to everything you need while the optional Smart Card (CAC/PIV) seamlessly keeps your IP secure.
Reliability when you need it most
Dell Reliable Memory Technology Pro (RMT): Protects your work from potential crashes related to memory errors. Working in conjunction with ECC memory it detects and corrects or maps out memory errors in real-time. RMT Pro also monitors the health of the memory and alerts the user when the memory is at a critical level and needs to be replaced.
Independent Software Vendor (ISV) certification: Precision workstations are tested to ensure the high-performance applications you rely on every day run smoothly. Dell ISV certifications cover the most popular independent software applications.
Ports & Slots
1. Power button
2. Audio GHS
3. USB2 Type A
4. USB2 Type A
5. Optical Drive (optional)
6. SD Card reader (optional)
7. USB3.1 Type C
8. USB3.1 Type A
9. Keyboard/Mouse
10. Serial port
11. Keyboard/Mouse
12. 2 x DisplayPort
13. 2 x USB2 Type A
14. 4 x USB3.1 Type A
15. Audio Jack
16. Kensington Lock slot
17. PCU
18. 1G NIC
19. Power Plug
Dimensions & Weight
1. Height: 13.18" (335mm)
2. Width: 6.95" (176.6mm)
3. Depth: 13.58" (345mm)
Weight: 18.50 lbs (8.39 kg)
PCle Slots
1 x PCIe 3.0 x16/x16
2 x PCIe 3.0 x16/x4
1 x PCI x1
Docs & Drivers
Tech Specs
Manufacturer
Dell
MFG. Product Number
T3630
Processor
Intel Core i7-8700 @ 3.20GHz | Hexa Core (6-Core)
Memory
32GB DDR4 2666MHz
Storage
500GB SSD
Graphics
NVIDIA Quadro NVS 510 2GB
Operating System
Win10 Pro
Weight
18.50 lbs (8.39 kg)