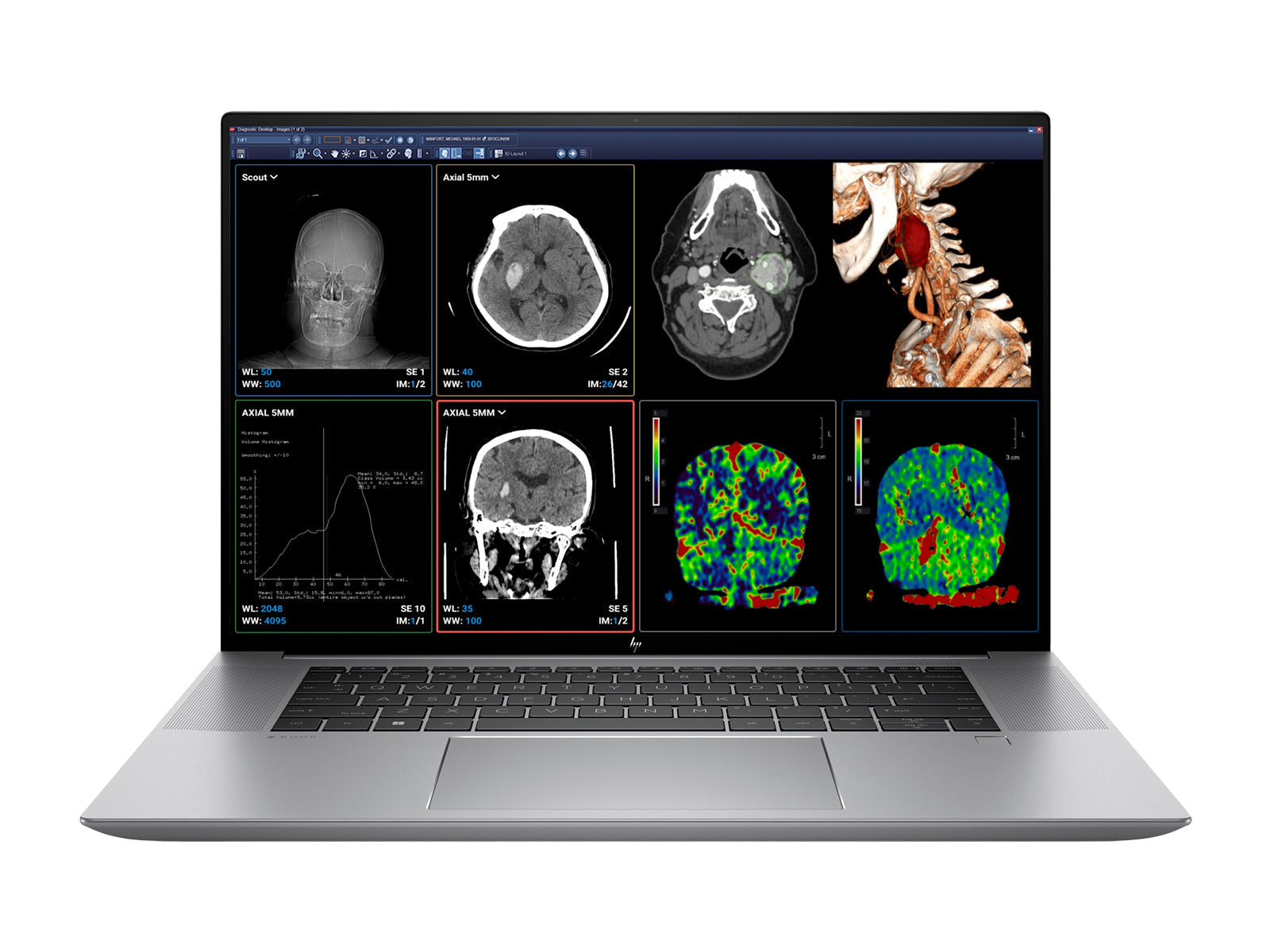 HP ZBook Studio 16 G9 Mobile Radiology Workstation | 16" WUXGA DICOM Calibrated | Intel i7-12800H @ 4.80GHz | 14-Core | 64GB DDR5 | 1TB NVMe SSD | NVIDIA RTX 3070 8GB | WiFi 6E | Win10-11 Pro
The HP ZBook Studio 16 G9 TeleRad Edition is a powerhouse designed exclusively for radiologists seeking unparalleled performance and precision. With its top-of-the-line specifications and advanced features, this laptop takes medical imaging to the next level.
Featuring a DICOM Calibration display, the HP ZBook Studio ensures exceptional image quality, rendering medical scans with incredible accuracy and detail. Every pixel comes to life on the stunning WUXGA  screen, allowing radiologists to examine images with unparalleled clarity and make accurate diagnostic decisions confidently.
Equipped with the Intel Core i7-12800H processor, this laptop delivers lightning-fast performance, handling the most demanding medical imaging software effortlessly. With 64GB of memory, multitasking becomes a breeze, ensuring smooth operation even with resource-intensive applications.
Never worry about storage limitations again with the spacious 1TB NVMe SSD. This ample storage capacity allows radiologists to securely store vast amounts of medical datasets and patient records. With the blazing-fast read and write speeds, accessing files and loading images becomes seamless, saving valuable time during critical workflows.
The HP ZBook Studio could be equipped with the NVIDIA RTX 3070 8GB graphics card to handle the demanding graphics requirements of radiology. This powerful GPU enables the real-time rendering of 3D medical images and supports smooth playback of high-resolution DICOM sequences, delivering an immersive visual experience that enhances diagnostic capabilities.
Built to withstand the rigors of a medical environment, the HP ZBook Studio boasts a durable construction. Its slim and sleek design is complemented by MIL-STD-810H certification, ensuring resistance to shocks, vibrations, and extreme temperatures. Radiologists can rely on this laptop to perform reliably, day in and day out. 
Tech Specs
Manufacturer
HP
MFG. Part#.
4Z8R6AV_MB
Processor
Intel i7-12800H @ 4.80GHz | 14-core
Memory
64GB DDR5
Storage
1TB NVMe SSD
Graphics
NVIDIA RTX 3070 8GB
Operating System
Win10-11 Pro
Weight
3.92 lbs (1.78 kg)