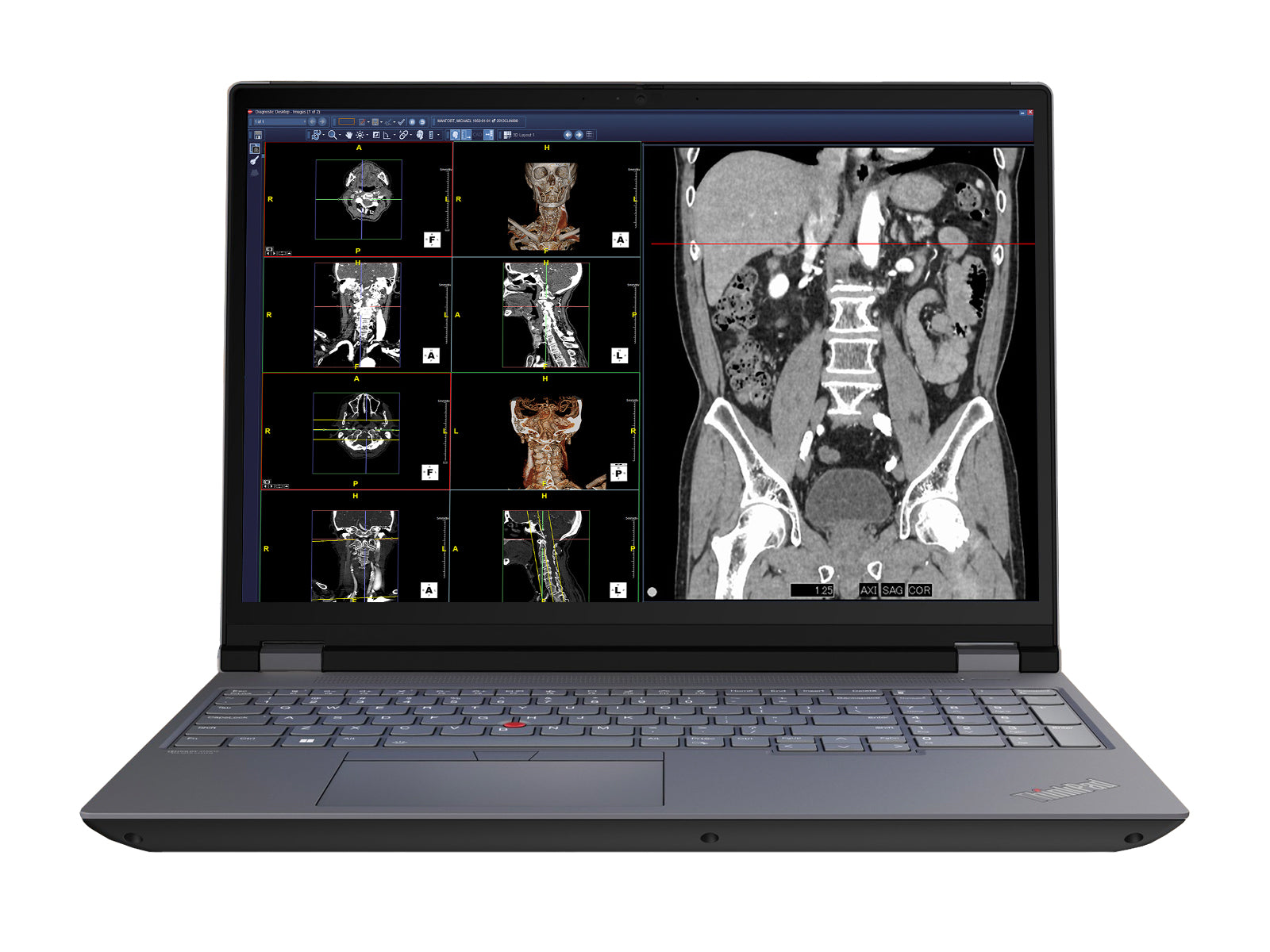 Lenovo ThinkPad P16 16" Mobile Radiology Workstation | 4K+ UHD 9MP DICOM OLED Touchscreen 400nits Display | Intel Core i9-12900HX @ 5.0GHz | Up to 128GB DDR5 | 1TB NVMe SSD | Nvidia RTX A4500 16GB | Win10-11 Pro
New / 64GB DDR5 / Win10 Pro
The Lenovo P16 mobile radiology workstation is a cutting-edge laptop specifically designed to meet the demanding needs of radiologists who require high-performance computing and the ability to view high-quality diagnostic radiology images on the go. This mobile workstation ensures exceptional processing power for seamless multitasking and image rendering.
---
The high-end mobile workstation at its best
Powered by an Intel Core i9 12900HX processor with 128GB DDR5 4800Mhz memory, a powerful Nvidia Quadro RTX A4500 16GB and a 1TB NVMe solid-state drive, the P16 provides ample storage and lightning-fast data access for quick retrieval and analysis of medical images. Its WIFI 6E wireless connectivity allows for reliable and fast internet access, ensuring seamless communication and remote access to critical medical systems.
---
Next-level performance & productivity 
Equipped with the latest model Nvidia Quadro RTX A4500 graphics card with 16GB onboard memory, the P16 ensures fast image loading and smooth navigation through radiology cases without delays or glitches. This powerful graphics card enhances the workstation's ability to handle complex imaging tasks, such as 3D rendering and GPU-accelerated algorithms.
---
Stunning visuals
Featuring a stunning 4K+ UHD DICOM calibrated OLED touchscreen display, the P16 offers exceptional image clarity, color accuracy, and contrast, making it ideal for precise radiology interpretation. The touchscreen functionality adds an intuitive and efficient interaction method.
---
Enabling radiologists to work with multiple diagnostic images
The workstation supports up to four additional external display monitors, each capable of displaying up to 8MP, enabling radiologists to work with multiple diagnostic images simultaneously, enhancing productivity and accuracy.
---
Strong security with easy recovery options
Built with security in mind, the ThinkPad P16 comes preloaded with Lenovo ThinkShield solutions. The discrete Trusted Platform Module (dTPM) encrypts your data, a self-healing BIOS can restore system settings if needed, and a fingerprint reader enables secure, one-touch log-ins. There's even a sliding privacy shutter to physically close the webcam.
---
A mobile workstation with a modern look
At 16″, the redesigned workhorse mobile workstation, the ThinkPad P16 offers a slick, modern design in a portable size. It's got standout looks, too, with a Storm Grey cover, red accent lines, and narrow-bezel display with a roomy 16:10 aspect ratio. In addition, the redesigned vents send hot air out the back of the system, not the sides.
---
New cooling features
The Lenovo P16 mobile radiology workstation introduces innovative cooling features to ensure optimal performance and prevent overheating during demanding radiology tasks. Recognizing the importance of efficient cooling for sustained performance, Lenovo has implemented advanced cooling technologies in the P16. The placement of vents and air intake/exhaust areas is carefully planned to facilitate maximum airflow and heat dissipation.
---
Ports & Slots
Optional: Smart card reader
SD Express 7.0 card reader

USB-A 3.2 Gen 1

Kensington Security Slot™

USB-A 3.2 Gen 1 (always on)

USB-C 3.2 Gen 2

Headphone / mic combo

Optional: Nano-SIM card slot

Power connector

Thunderbolt™ 4 / USB4™ 40Gbps / USB-C 3.2 Gen 2

HDMI 2.1
Tech Specs
Manufacturer
Lenovo
MFG. Part#.
21D6004XUS
Processor
Intel Core i9-12900HX @ 5.0GHz
Memory
Up to 128GB DDR5
Storage
1TB NVMe SSD
Graphics
RTX A4500 16GB
Operating System
Win10-11 Pro
Weight
6.4 lbs (2.9 kg)