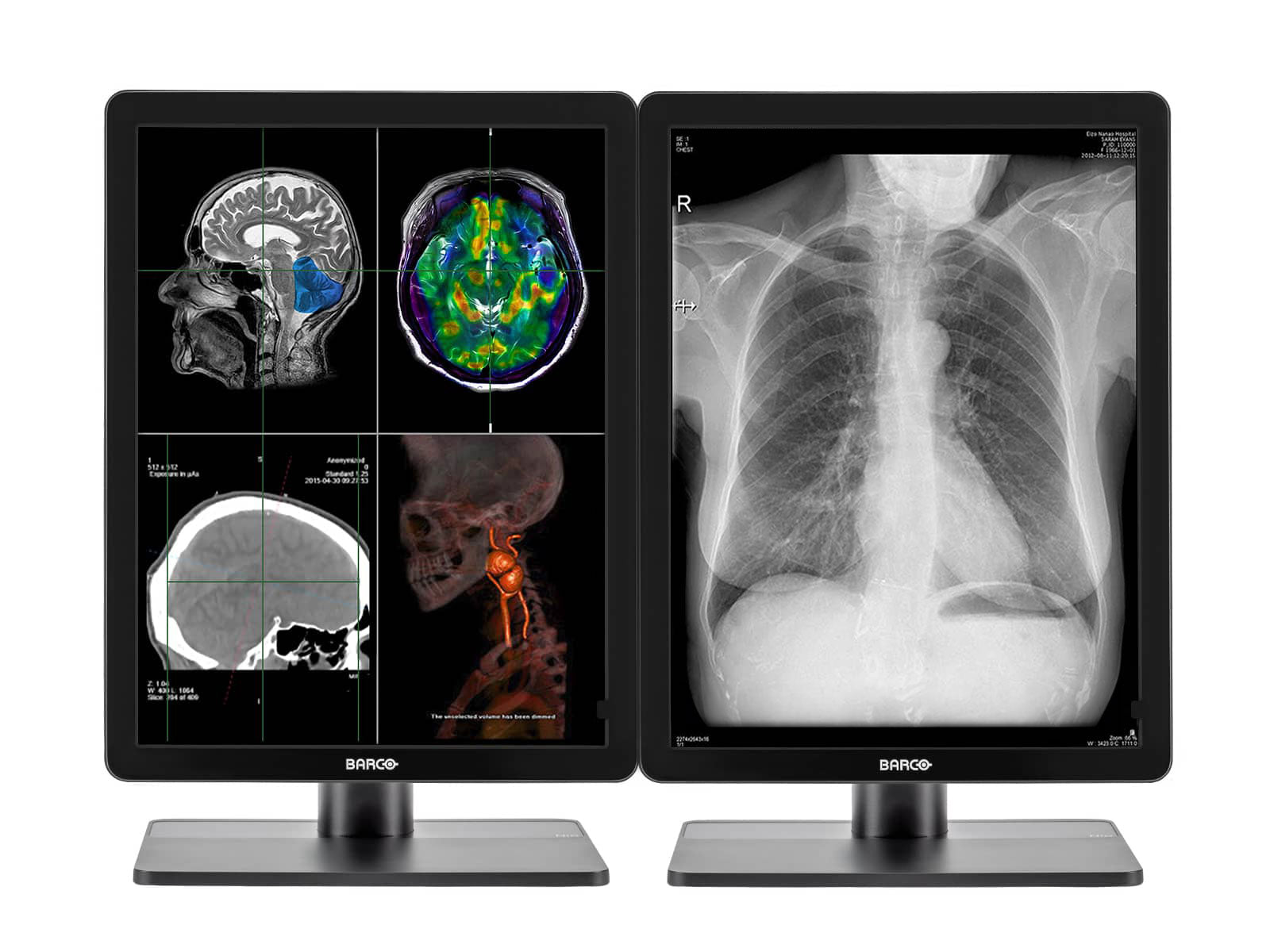 Barco® Nio MDNC-3321 3MP 21" Color LED General Radiology Diagnostic PACS Display (K9300323A)
Renewed / Pair / W/O Protective Glass
Introducing the Barco® Nio MDNC-3321, the pinnacle of diagnostic radiology display performance. Engineered with Barco® DuraLight LED backlight technology, the MDNC-3321 delivers crisp, high-definition DICOM-calibrated images with 500cd/m2 luminance. This provides radiologists with the precise and reliable imaging they need for enhanced diagnostic accuracy in a wide range of modalities, including X-ray, MRI, CT, Ultrasound, PET CT, and Nuclear Medicine.

The MDNC-3321 also features an inbuilt front I-Guard sensor for automatic DICOM calibration and quality assurance, ensuring consistent and reliable image quality without the need for constant manual recalibration. Additionally, the MDNC-3321 offers both DVI and DisplayPort connectivity, making it versatile and compatible with all graphics cards and operating systems. With 40,000 hours of guaranteed backlight life, the MDNC-3321 is a durable and long-lasting investment for any radiologist prioritizing accuracy, quality, and longevity.
---
DICOM Calibration with Barco®'s I-Guard Technology
The Barco® Nio MDNC-3321 display is highlighted by Barco®'s pioneering I-Guard technology. This notable feature integrates a front-of-screen photometer, constantly evaluating image quality and ensuring precise DICOM calibration. Integrated with Barco®'s MediCal QAWeb service, I-Guard empowers radiologists with a holistic solution for effortless calibration management and quality assurance. The adaptive intelligence of I-Guard is tailored to the unique demands of radiology, making it an essential asset for professionals looking to boost diagnostic certainty and refine patient care.
---
Unleashing Precision: The Power of 30-Bit Color in Medical Imaging
Delivering absolute precision in medical imaging, the remarkable prowess of 30-bit color comes to light. It unlocks a spectrum of over one billion colors, presenting radiologists with detailed, nuanced images that were previously unattainable with the standard 24-bit color depth. This dramatic increase in color range greatly enhances the accuracy of diagnoses, helping to identify even the most subtle anomalies that could be easily overlooked otherwise.

The power of 30-bit color depth in medical imaging lies not just in its ability to provide richer, more vibrant images, but also in its potential to increase diagnostic accuracy and efficiency. This enhanced color depth reduces grayscale banding and brings out intricate details within images, making it easier for radiologists to detect abnormalities. From the delicate shades in a CT scan to the nuanced gradients in an MRI, the impact of 30-bit color is transformative. It propels medical imaging into a new era of clarity, precision, and reliability, fundamentally revolutionizing the realm of diagnostic medicine.
---
Uniform Luminance Technology
Addressing the critical challenges encountered by radiologists, Barco®'s Uniform Luminance Technology (ULT), a key feature of the MDNC-3321, emerges as a ground-breaking solution. Common LCD displays frequently suffer from irregular brightness in over a quarter of the screen area, leading to image disturbance and suboptimal quality. In contrast, Barco®'s ULT technology eradicates these inconsistencies in color and luminance, adhering strictly to DICOM GSDF standards across the full screen area. This advanced feature enhances the accuracy and uniformity of imaging, providing radiologists with the reliable tools they need for precise diagnostics.
---
Power Efficiency Meets Connectivity
Designed to optimize efficiency and versatility, the Barco® Nio MDNC-3321 is equipped with a wide range of I/O ports to facilitate seamless connectivity. It features both DisplayPort and DVI interfaces, ensuring compatibility with a broad range of systems and devices. This flexibility greatly enhances the user experience, allowing for effortless integration into various setups. Moreover, the MDNC-3321 is built with a USB hub, providing additional connectivity options for peripherals, and further contributing to its user-friendly design. But perhaps the crowning feature of MDNC-3321 is its highly efficient power supply. This cutting-edge component provides stable, noise-free 24V power to the monitor during operation, ensuring reliable performance and clear, disturbance-free imaging. During periods of sleep or standby, it seamlessly switches to a 5V hybrid efficiency mode, thereby saving energy while maintaining the monitor's readiness for quick wake-up, exemplifying the Barco® Nio MDNC-3321's commitment to performance, efficiency, and sustainability.
---
Barco® Displays & MXRT: Unrivaled Diagnostic Precision
Boost your diagnostic potential with the synergistic pairing of the Barco® Nio MDNC-3321 and Barco® MXRT graphics card. This potent duo promises stellar image quality and top-notch performance, enhancing precision and efficiency in diagnostic radiology. The MXRT-5600, MXRT-6700, MXRT-7600, and MXRT-8700 graphics cards, specifically engineered to elevate Barco® diagnostic display's capabilities, ensure seamless compatibility and the apex of image quality in the medical imaging domain. By opting for the Barco® Nio MDNC-3321 and MXRT graphics card combination, you can truly immerse yourself in a diagnostic workflow marked by unparalleled clarity and precision.
---
Anti-Reflective Optical Glass Boosts Radiologist Clarity
The Barco® Nio MDNC-3321 displays are available with an optional anti-reflective coated protective glass, a transformative addition that markedly amplifies performance and visual sharpness for radiologists. Leveraging cutting-edge coating technology, it significantly diminishes glare and reflections, thus facilitating an impeccably clear and accurate image viewing experience for medical professionals. This anti-reflective coating effectively curtails visual disturbances, empowering radiologists to concentrate on the critical subtleties of each image, thereby paving the way for enhanced diagnostic precision and ultimately, improved patient care. Embrace a new standard of image clarity with the Barco® Nio MDNC-3321 and its groundbreaking anti-reflective protective glass.
---
Barco® QAWeb Calibration & QA Software
In keeping with the superior standards of all Barco® medical display systems, the Nio MDNC-3321 integrates the convenience of MediCal QAWeb. This versatile tool is available both as a standalone local workstation installation and a cloud-based subscription technology, providing automated calibration and Quality Assurance. This means that the MDNC-3321 display ensures maximum uptime without the necessity for manual intervention. Leveraging this innovative technology, you can enjoy seamless operation and consistently high-quality performance, ultimately fostering a more efficient and reliable workflow.
---
MDNC-3321: Light & sturdy
Exemplifying the perfect synergy of size, weight, functionality, and convenience, the Barco® Nio MDNC-3321 medical display monitor stands out in the realm of radiology displays. It measures 528mm (20.7 inches) in height, 378mm (14.8 inches) in width, and 235mm (9.2 inches) in depth per monitor, offering a generous viewing area for detailed radiological examinations. With a weight of 12.8kg (28.2 lbs) including the stand per monitor, the MDNC-3321 is a sturdy and durable display that assures longevity. Applicable in diverse settings, from hospitals to home offices, the Nio MDNC-3321 is an exceptional choice for radiologists seeking the ideal mix of size, performance, and image quality in a color general radiology display.
---
SpotView™
The SpotView feature on the Barco® Nio MDNC-3321 momentarily amplifies display brightness within a designated circular area, facilitating a more detailed inspection of intricate features. This dynamic tool fine-tunes contrast, and based on user preference, can magnify or invert pixels within the SpotView area. This function offers a significantly optimized viewing experience, allowing radiologists to discern even the most subtle nuances with greater clarity and precision.
---
Experience Ergonomic Flexibility with Solid Alloy Stand
The Barco® Nio MDNC-3321 display comes equipped with a highly adaptable stand, designed to enhance user comfort and convenience during monitor use. It features capabilities for tilt, swivel, and height adjustments, allowing you to easily tailor the display position to your preference. Furthermore, the stand includes a connector compartment cover specifically for cable management, thus ensuring a neat and orderly workspace. Enjoy an elevated level of comfort and ease-of-use with the intuitive design and flexibility of the Barco® Nio MDNC-3321's adjustable stand.
---
DimView
The Barco® Nio MDNC-3321's DimView feature offers an intelligent solution for optimizing your viewing comfort during readings. It automatically dims secondary displays used for patient worklists or dictation, effectively reducing peripheral light and allowing your eyes to focus on the primary diagnostic screen. You have the freedom to choose which display(s) should dim automatically when the cursor is not active on them. DimView allows for individual dimming control of each display, or the synchronization of dimming for all auxiliary displays via DimView Link. This provides a tailored viewing experience that adjusts to your specific needs and preferences, promoting optimum viewing conditions and facilitating enhanced diagnostic precision.
---
Backlight Output Stabilization (BLOS)
The Barco® Nio MDNC-3321 Color 3MP LED makes you better at your job. Equipped with high-bright LED backlights, it delivers excellent brightness and more shades of gray so you can detect subtle details more quickly and accurately. Equipped with a unique front-of-screen sensor, you can always see consistent and precise images for confident diagnoses.
---
Tech Specs
Manufacturer
Barco®
MFG. Part#.
K9300323A, K9300323C, K9300323B
Screen Type
Color
Resolution
3MP (2048 x 1536)
Pixel Pitch
0.2155 x 0.2155 mm
Contrast Ratio
1400:1
Aspect Ratio Hv
4:3
Calibrated Luminance
400 cd/m²
Max Luminance
800 cd/m²
Calibration
Auto (Built-in front sensor)
Backlight Sensor
Yes
Front Sensor
Yes
Ambient Light Sensor
Yes
Backlight
LED
Screen Technology
TFT AM Color LCD IPS
Active Screen Size (DIAGONAL)
540 mm (21.3")
Active Screen Size (H x V)
433 x 325 mm (17.0 x 12.8")
Video Input Signals
DisplayPort
Recommended For
All digital images, except digital mammography
3D Tomosynthesis
No
Viewing Angle (H, V)
178°, 178°
Mount Type
VESA (100 mm)
Dimensions (W x H x D)
378 x 528 x 235 mm (14.8" x 20.7" x 9.2")
Power Consumption
50 W
Power Requirements
110-240 V
Weight
28.2 lbs (12.8 kg)