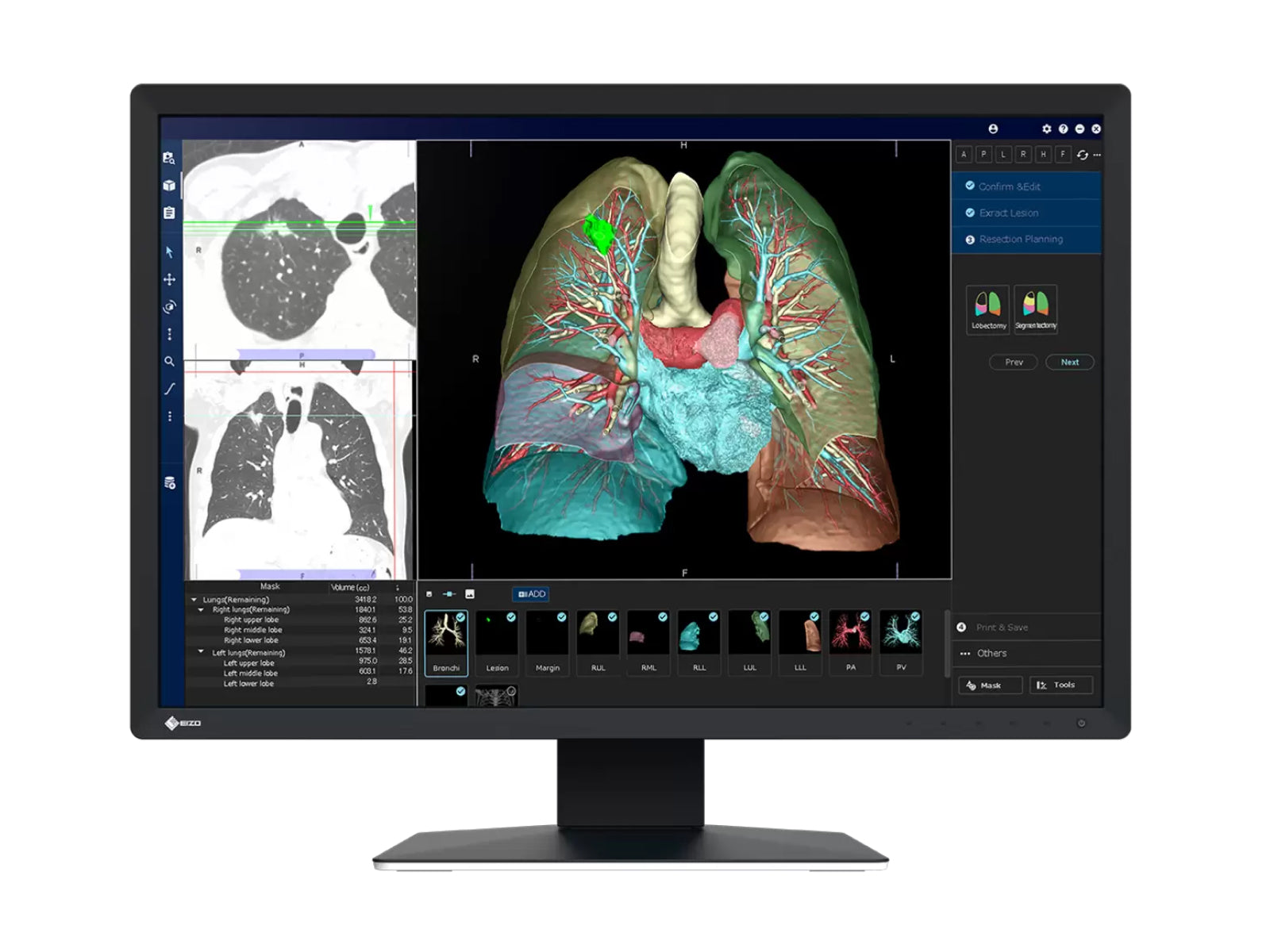 Eizo RadiForce MX243W 2.3MP 24" Color LED Clinical Review Display (MX243W)
The Eizo RadiForce MX243W is a 24.1-inch widescreen medical monitor with DICOM Part 14 calibration for viewing medical images.
Comfortable Use, Convenient Connectivity
View More with Widescreen
The Eizo RadiForce MX243W has a resolution of 1920 x 1200 pixels and 16:10 aspect ratio. This provides more space for comfortably working with images, tool palettes, and other windows compared to conventional square monitors.
Elegant Cabinet Design
The monitor's cabinet is designed with rounded corners and elegant curves on the back to present a gentle aesthetic and facilitate a comforting environment for patients and medical staff.
Save Work Space with Sleek Cabinet Design
With the new monitor cabinet and stand design, compared to its predecessor, the monitor's width and depth are reduced by 23 mm and 45 mm respectively. This results in a monitor that takes up 24% less space, giving you more room for other tasks.
Hassle-Free Multi-Monitor Configuration
Using the DisplayPort connection, you can drive several monitors in a daisy chain sequence. This allows you to configure a multi-monitor setup without the complicated hassle of excessive cabling.
A graphics board that supports daisy chain is necessary.
Compatibility between RadiForce monitors using DisplayPort daisy chains.
Select the Ideal Mode for Modalities
The CAL Switch function allows you to choose various modes for different modalities such as CR, CT, and endoscopy. Using the bundled RadiCS LE software, modes can be set to automatically switch to optimal image viewing conditions.
High Fidelity Images for Peace of Mind 
Display Both Monochrome and Color
The Hybrid Gamma PXL function automatically distinguishes between monochrome and color images pixel by pixel, creating a hybrid display where each pixel has optimum grayscale.
As a result, monochrome images such as CR and DR are displayed in the ideal grayscale that corresponds to DICOM Part 14, while color images such as those used in endoscopy, nuclear medicine, 3D rendering, and fusion imaging are faithfully reproduced corresponding to Gamma 2.2. This improves the efficiency of viewing both monochrome and color images together on one screen.
Achieve Clarity True to the Source Data
A medical monitor needs to be capable of high brightness in order to meet performance standards. However, in order to achieve high brightness in an LCD panel, the pixel aperture ratio has to be increased. This causes a typically unavoidable decline in sharpness. With EIZO's unique Sharpness Recovery technology, the decrease in sharpness (MTF) is restored. This allows you to display an image that is true to the original source data safely on the monitor, even at high brightness levels.
MTF measures numerically how faithfully the panel transfers detail from the original image data for viewing. When Sharpness Recovery is turned on, in the case of a 2 pixel line pair (spatial frequency of 0.926 cycles/mm) the MTF increases by over 50%.
Rest Assured with Image Consistency
Maintain the Precision
Perform a simplified calibration compliant with DICOM Part 14 using the bundled RadiCS LE quality control software. RadiCS LE corrects the brightness and grayscale tones of the monitor to maintain image accuracy and consistency over time.
Care for the Environment
Conserve to Preserve
The monitor is made of approximately 19% recycled plastic. This cuts down on the amount of plastic waste going into the environment, conserves resources, and promotes the reuse of materials for preserving our natural ecosystems.
\
Docs & Drivers
Tech Specs
Manufacturer
Eizo
MFG. Part#.
MX243
Screen Type
Color
Resolution
2.3MP (1920 x 1200)
Pixel Pitch
0.270 x 0.270 mm
Contrast Ratio
1350:1
Aspect Ratio Hv
16:10
Calibrated Luminance
220 cd/m2
Max Luminance
410 cd/m2
Calibration
Auto (built-in front sensor)
Backlight Sensor
Yes
Front Sensor
Yes
Ambient Light Sensor
Yes
Backlight
LED
Active Screen Size (DIAGONAL)
610 mm (24.1")
Active Screen Size (H x V)
518.4 x 324.0 mm (20.4" x 12.7")
Video Input Signals
DisplayPort
Recommended For
All digital images, except digital mammography
Viewing Angle (H, V)
178° , 178°
Mount Type
VESA (100mm)
Dimensions (W x H x D)
552 x 430 x 200 mm (21.7" x 16.9" x 7.87")
Power Consumption
26 W
Power Requirements
AC 100 - 240 V: 50 / 60 Hz
Weight
17.1 lbs (7.8 kg)