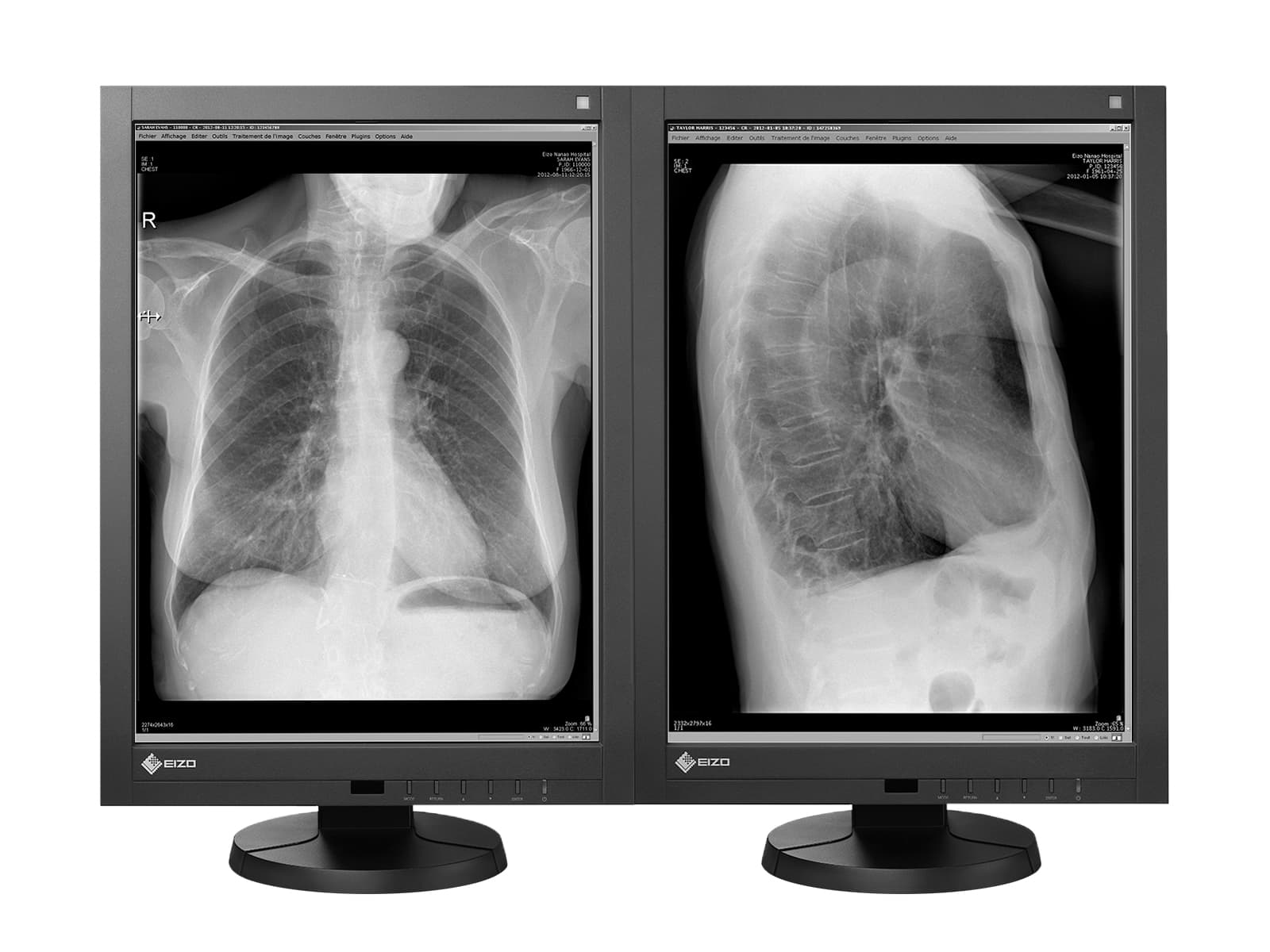 Eizo RadiForce GX340 3MP 21" Grayscale LED General Radiology Diagnostic Display Monitor (GX340-CL)
Environmentally-Friendly LED Backlight
By utilizing an energy-efficient LED as a backlight, the monitor achieves a high brightness and low power consumption at the same time. Unlike conventional CCFL backlights, LED backlights deteriorate more slowly and thus the monitor offers a longer service life. Since the LED backlight is mercury-free, it will reduce any potential impact on the environment when it is disposed of.

Consistency with DICOM Part 14 Calibration
With the bundled RadiCS LE quality control software, a simplified calibration compliant with the DICOM Part 14 standard can be performed to correct the brightness and grayscale tones of the monitor ensuring the most accurate and consistent shadings possible over time.

Easy Calibration with Integrated Front Sensor
An Integrated Front Sensor (IFS) housed within the front bezel measures brightness and grayscale tones and calibrates to the DICOM Part 14 standard. Without having to connect and disconnect, an IFS performs QC tasks and does not interfere with the viewing area. This dramatically cuts monitor quality control workload and maintenance costs.

Displaying with Separate Brightness Levels
For monochrome monitors, the Hybrid Gamma function automatically distinguishes the medical images from the non-medical areas such as the tool palettes and displays each one at its optimum brightness. Decreasing the tool palette area's brightness leads to less eye fatigue.

10-Bit Simultaneous Grayscale Display
10-bit (1,024 tones) simultaneous grayscale display extends grayscale fidelity to the boundaries of human visual perception abilities and helps radiologists discern the finest nuances within an image.
 

Docs & Drivers
Tech Specs
Manufacturer
Eizo
MFG. Part#.
GX340-CL
Screen Type
Grayscale
Resolution
3MP (1536 x 2048)
Pixel Pitch
0.2115 x 0.2115 mm
Contrast Ratio
1400:1
Aspect Ratio Hv
3:4
Calibrated Luminance
500 cd/m²
Max Luminance
1,200 cd/m²
Calibration
Auto (built-in front sensor)
Backlight Sensor
Yes
Front Sensor
Yes
Ambient Light Sensor
Yes
Backlight
LED
Screen Technology
Monochrome (IPS)
Active Screen Size (DIAGONAL)
540 mm (21.3")
Active Screen Size (H x V)
324.8 x 433.1 mm (12.78 x 17.05")
Video Input Signals
DisplayPort
Recommended For
All digital images, except digital mammography
3D Tomosynthesis
No
Viewing Angle (H, V)
176°, 176°
Mount Type
VESA (100 mm)
Dimensions (W x H x D)
376 x 520 x 245.5 mm (14.8" x 20.4" x 9.6")
Power Consumption
90 W
Power Requirements
AC 100 - 120 V, 200 - 240 V
Weight
22.5 lbs (10.2 kg)