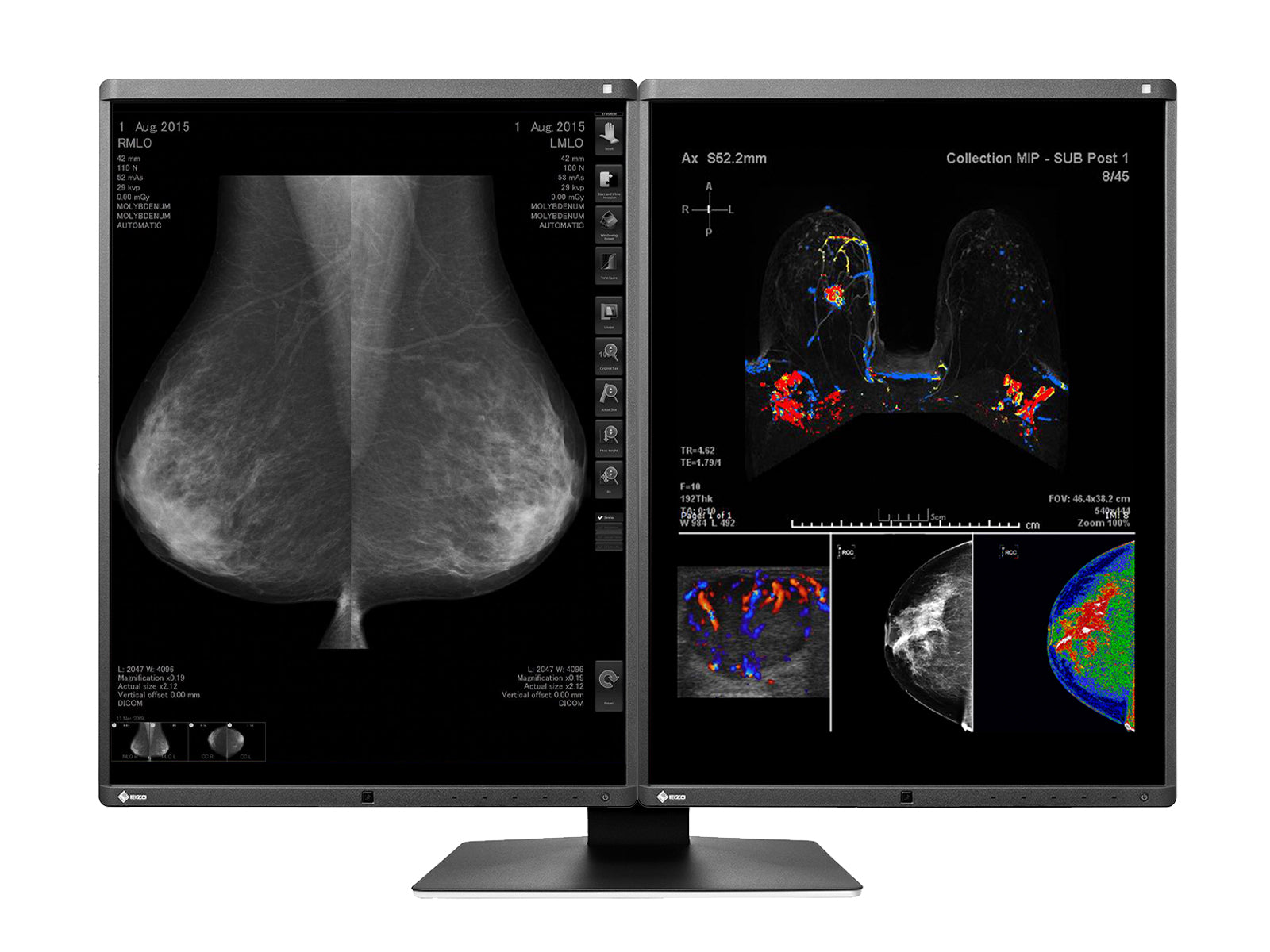 Eizo RadiForce RX560 5MP 21" Color LED Mammo 3D-DBT Breast Imaging Display (RX560-BK)
The Eizo RadiForce RX560 is the first medical monitor to employ low-temperature polysilicon (LTPS) liquid crystal display technology, allowing it to achieve high brightness levels typically reserved for monochrome monitors. This innovation enables the RX560 to display high-definition monochrome breast tomosynthesis and mammography images, as well as color images such as ultrasound and pathology. Eizo Radiforce RX560 boasts a high contrast ratio of 1500:1, comparable to that of monochrome monitors, delivering deep blacks without washout.
---
FDA Approved for Breast Tomosynthesis and Mammography
The Eizo Radiforce RX560 diagnostic monitor has successfully secured FDA 510(k) clearance from the U.S. Food and Drug Administration, specifically for breast tomosynthesis and mammography applications. This approval highlights the monitor's exceptional capabilities in delivering high-quality, detailed breast screening images, a critical factor for radiologists seeking top-tier performance in their diagnostic tools.
---
Enhancing Visualization in Ultrasound, Breast MRI & CTs
Mammography and ultrasound are increasingly being used in tandem for breast cancer screenings in patients with high breast density. If breast cancer is suspected, additional tests like biopsies, breast MRI, and CT scans may be necessary, requiring the use of color monitors. The Eizo Radiforce RX560 offers outstanding quality, innovative design, and exceptional value for breast imaging radiologists, enhancing diagnostic accuracy and efficiency in a streamlined workspace.
---
Hybrid Gamma PXL Technology: Enhanced Color and Monochrome Imaging for Radiologists
The Eizo Radiforce RX560 diagnostic monitor boasts Hybrid Gamma PXL technology, designed to deliver superior accuracy and reliability in both color and monochrome imaging. By automatically differentiating between monochrome and color images on a pixel-by-pixel basis, the monitor ensures that each pixel displays the ideal grayscale, outperforming conventional area-detection methods.
Radiologists can benefit from the RX560's faithful reproduction of not only high-defenition breast tomosynthesis and mammography monochrome images, but also color images such as breast MRI, CT, ultrasound, and pathology. This advanced technology streamlines workflow by enabling the simultaneous viewing of monochrome and color images on a single screen.
EIZO partnered with Japan's Kumamoto Chuo Hospital for a visual assessment of the Hybrid Gamma PXL function. The comparison of monitors with the function enabled and disabled demonstrated that the RX560 accurately displayed monochrome images in compliance with DICOM Part 14 standards while enhancing the interpretation accuracy of color images.
---
Seamless Visualization of Breast Tomosynthesis
The Eizo Radiforce RX560 diagnostic monitor features a rapid 12-millisecond response time, making it the perfect solution for radiologists working with breast tomosynthesis. This swift response enables smooth enlargement and panning of medical images, as well as the rapid display of 3D breast tomosynthesis, which consists of multiple images captured in each shot. This exceptional performance ensures that radiologists can efficiently analyze and interpret crucial medical imaging data.
---
Make the Precise Diagnosis
EIZO carefully measures and sets each grayscale tone to create a monitor compliant with DICOM Part 14. This ensures the most consistent shading possible, allowing for the most accurate diagnosis.
---
Manage Effortless Quality Control
Manage Effortless Quality Control a built-in Integrated Front Sensor (IFS) measures brightness and grayscale tones to calibrate to DICOM Part 14. The IFS does not interfere with the viewing area while cutting the workload and maintenance costs needed for monitoring quality control. The presence sensor feature unites convenience with savings by ensuring that the monitor conserves power when it is not in use.
The Eizo Rx560 features an ambient light sensor that automatically adjusts the display's brightness to match the surrounding environment. This innovative technology ensures that the image on the screen is always easy on the eyes, regardless of the lighting conditions. With the ambient light sensor, you can work comfortably for extended periods, without experiencing eye strain or fatigue. This feature makes the Eizo Rx560 an excellent choice for professionals who require accurate and consistent color performance in a variety of lighting environments.

A presence sensor prompts the monitor to switch to power save mode when the user is away and resumes operation upon their return to conserve energy when not in use. In the latest RadiForce models, the sensor detects the user's presence using a heat sensing method. This increases the range and angle of detection compared to conventional methods, making it effective when using multiple monitors.
---
Distraction-Free Viewing
The Eizo RadiForce RX560, an exceptional 5-megapixel display for radiologists and medical professionals, features an ultra-slim 7.5 mm bezel - the thinnest globally in its class. This cutting-edge design, with a minimal 15 mm gap between dual-monitor screens and a 2.5 mm elevation above the screen surface, enables seamless transitions and an unparalleled viewing experience for enhanced diagnostic precision and workflow efficiency.
---
Space Saving Design
The RX560 MammoDuo's innovative design significantly reduces its dimensions by 67 mm horizontally, 36 mm vertically, and 20.5 mm in depth compared to a traditional side-by-side configuration featuring a single monitor with the same overall resolution. This reduction results in a 22% decrease in the total space occupied by the monitors, offering radiologists and medical professionals a more spacious and clutter-free environment with an enhanced viewing area.
---
A Sophisticated and Practical Stand
The innovative stand accompanying the RX560 allows for seamless adjustments to height, tilt, and swivel for both monitors without creating any gaps between the screens. This user-friendly feature provides radiologists and medical professionals with an optimal and customizable viewing experience, further enhancing diagnostic precision and workflow efficiency.
---
Sleek and Refined
The Eizo RX560's black front bezels offer an optimal viewing experience in dimly lit reading rooms, allowing radiologists and medical professionals to concentrate on images with ease. The monitor's distinctive white stripe along its sides adds a touch of elegance and a clean, modern aesthetic to complement any professional workspace.
---
Elevate Your Diagnostic Accuracy with Point-and-Focus
The innovative Point-and-Focus feature sets the Eizo RadiForce RX560 apart. This remarkable function allows you to swiftly pinpoint and concentrate on areas of concern using just your mouse and keyboard. By adjusting the brightness and grayscale tones of specific points on the screen, interpretation becomes significantly easier and more efficient.
---
Effortless Multi-Monitor Setup with Streamlined Connectivity
The Eizo Radiforce RX560 diagnostic monitor comes with integrated DisplayPort 1.2 input and output terminals, simplifying multi-monitor configurations for radiologists. By utilizing the output terminal, you can effortlessly connect multiple monitors in a daisy chain sequence, eliminating the need for cumbersome cabling and ensuring a more organized and efficient workspace.
---
Versatile Connectivity: One Monitor, Multiple Ports for Radiologists
Experience the convenience of seamless connectivity with the Eizo Radiforce RX560 diagnostic monitor. Equipped with a variety of ports, this monitor enables direct connection to a wide range of devices, including PCs, laptops, and cameras. This versatile solution simplifies your daily workflow as a radiologist, ensuring effortless integration with your essential equipment.
---
Enhance Your Image Interpretation Experience
With the ongoing digitalization of imaging modalities, radiologists are faced with an ever-growing volume of information on their screens. EIZO's innovative Work-and-Flow technology simplifies the complexities of the imaging workflow by introducing new functions tailored specifically for radiologists. Experience the benefits of Work-and-Flow features with Eizo RadiForce 560 monitor and the included RadiCS software, designed to elevate your reading capabilities.
---
Tech Specs
Manufacturer
Eizo
MFG. Part#.
RX560-BK
Screen Type
Color
Resolution
5MP (2048 x 2560)
Pixel Pitch
0.165 x 0.165 mm
Contrast Ratio
1500:1
Aspect Ratio Hv
4:5
Calibrated Luminance
500 cd/m²
Max Luminance
1100 cd/m²
Calibration
Auto (built-in front sensor)
Backlight Sensor
Yes
Front Sensor
Yes
Ambient Light Sensor
Yes
Backlight
LED
Screen Technology
Color (IPS)
Active Screen Size (DIAGONAL)
541 mm (21.3")
Active Screen Size (H x V)
337.9 x 422.4 mm (13.30 x 16.62")
Video Input Signals
DisplayPort
Recommended For
All digital images including mammography
3D Tomosynthesis
Yes
Viewing Angle (H, V)
178°, 178°
Mount Type
VESA (100 mm)
Dimensions (W x H x D)
696.5 x 519.3-609.3 x 225 mm (27.4 x 20.4-23.9 x 8.5")
Power Consumption
87 W
Power Requirements
AC 100 - 240 V: 50 / 60 Hz
Weight
17.9 lbs (8.1 kg)