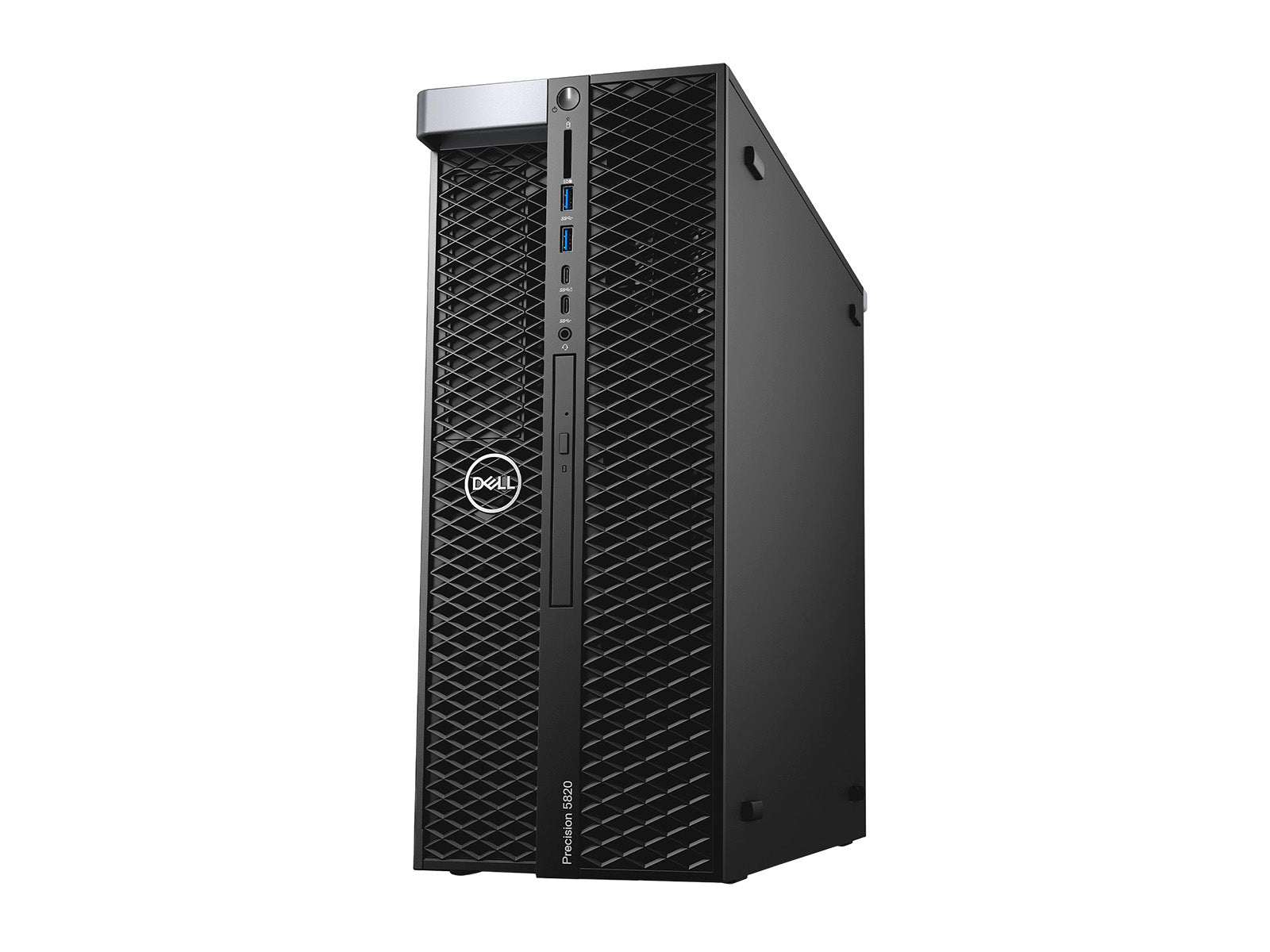 Dell Precision 5820 Workstation | Intel Xeon W-2235 @ 4.60GHz | 6-Core | 128GB ECC DDR4 | 1TB NVMe SSD | MXRT-8700 16GB | Win10-11 Pro
Experience the power of reliability and precision with the Dell Precision 5820 Workstation, designed to meet the demanding needs of radiologists and healthcare professionals. Crafted with a commitment to excellence and equipped with essential features, this workstation offers a compelling blend of capabilities without resorting to exaggerated claims or hype.
---
Precision Unleashed: Custom-Built Workstations for You
We can customize this workstation to your specific needs (upgrading storage, memory, graphics cards, etc.). Please contact us with your requirements and we will quote you a custom solution to meet your needs.
---
Blazing Fast Performance

Power your most demanding applications with the latest Intel Xeon processor, now featuring a new generation of single-socket architecture with up to 18 cores. Run your software as fast as possible and get real-time results thanks to this memory-expandable machine with up to 128GB memory RAM.
---
Built for Your Future
The Precision 5820 has a new customizable chassis that combines a versatile design with outstanding storage scalability to grow with your setup needs. No problem is too big with up to six 2.5" or five 3.5" drives and front access storage including SATA, SAS (not available on systems with Core X CPUs) and PCIe M.2/U.2 NVMe SSD can be configured for up to 1TB total storage and easily swapped. With the hot-swap feature on the M.2 and U.2 PCIe NVMe SSDs, you can remove drives without shutting down the workstation.
---
Reliability Where it Matters Most
Stay safe and secure while reducing downtime with Dell Reliable Memory Technology (RMT) Pro, designed to work with memory and protect your machine from potential crashes by mapping out bad memory locations after the system reboots. Plus, reliably access data with hardware and software optional RAID storage options. This includes PCIe NVMe SSDs and optional Smart Card (CAC/PIV) readers, so you can determine who has access to your system.

---
Intelligence that Matches Yours
Dell Optimizer for Precision is a built-in AI platform that learns how you work and continuously adapts to your style to create a smarter, more personalized and productive experience. Built-in AI and Intel Adaptix Technology adjusts performance levels where you need them the most so you can launch your most used apps faster.

---
Powerful performance
The Precision 5820 is powered by the latest Intel Xeon processors. This makes them ideal for demanding medical imaging and diagnostic applications, such as:

3D image rendering: The Precision 5820 can quickly and accurately render complex 3D images, which can help radiologists to better visualize and understand patient anatomy.
Real-time image analysis: The Precision 5820 can perform real-time image analysis, which can help radiologists to guide minimally invasive procedures and provide immediate feedback.
Advanced image processing: The Precision 5820's advanced image processing capabilities can help radiologists to improve the accuracy of their diagnoses.
---
Manage and Secure with Ease
Enhance convenience with Dell Client Command Suite and VMware® Workspace ONE™ integration, which lets you manage all of your Windows 10 endpoints from one console.
Enjoy peace of mind with SafeGuard and Response, tools backed by security exports that protect your workstation from cyber threats, and allow you to focus your energy on your workflow.
Manage systems remotely with Dell unique vPro extensions, capable of remotely running diagnostics on a fleet of devices, regardless of if they are powered on or off.
---
Dimensions & Weight
1. Height: 16.45" (418mm)
2. Width: 6.94" (176.5mm)
3. Depth: 20.4" (518.3mm)
Weight: 32 lbs (15.9 kg)
---
Ports & Slots
1. Power button/Power light
2. Drive activity light
3. SD card slot
4. USB 3.1 Gen 1 ports
5. USB 3.1 Gen 1 Type-C port with PowerShare
6. USB 3.1 Gen 1 Type-C port
7. Headset port
8. 5.25 inch bay (optional)
9. Optical drive
10. Drive access release latch
11. Drive carriers
12. Microphone/Line-in port
13. PS/2 Mouse port
14. USB 3.1 Gen 1 ports
15. Discrete graphics card slot (optional)
16. Padlock ring
17. Security cable slot
18. Power cable connector
19. Line-out port
20. Serial port
21. PS/2 Keyboard port
22. Network port
23. USB 3.1 Gen 1 port (supports smart Power-On)
24. Expansion card slots
---
Monitors.com Exclusive Offer
When you purchase from Monitors.com, you not only receive a top-tier workstation but also benefit from our dedication to value and service. We understand the unique needs of healthcare professionals, and that's why we offer:
Advanced Hot Swap: Our Hot Swap capabilities ensure you can seamlessly switch out components without workflow disruption, guaranteeing uninterrupted productivity.
Next Business Day Standard Replacement: Count on our swift replacement service to keep your workstation running smoothly, minimizing downtime.
Free Shipping & Fast Delivery: We respect your time, offering free shipping and lightning-fast delivery to get you started with your workstation without delay.
Dedicated Support Team: Our team of experts is readily available to address any inquiries or issues, making your journey from purchase to setup as seamless as possible.
Competitive Pricing: At Monitors.com, we're committed to delivering exceptional value. You'll find our products competitively priced to fit comfortably within your budget.
Customer Satisfaction: Your contentment is our top priority, and we're dedicated to ensuring you're thrilled with your purchase. We're here to assist you at every step.
Invest in a Monitors.com workstation for not just top-tier hardware but a partnership committed to your success.
---
Tech Specs
Manufacturer
Dell
MFG. Part#.
5820
Processor
Intel Xeon W-2235 @ 4.60GHz | 6-Core
Memory
128GB ECC DDR4
Storage
1TB NVMe SSD
Graphics
MXRT-8700 16GB
Operating System
Win10-11 Pro
Weight
34 lbs (15.4 kg)