One Monitor. Multi-Image.
CL-S1200 can accommodate images from any modality, including Digital Mammography/Tomosynthesis, US, CT, MRI, and pathology.

The Dynamic Gamma function (patented No. 6277984) can automatically identify monochrome and color images' pixels to display each of them in the optimum gradation.
Auto Config Select function can read the DICOM information of images to switch the configuration at the best performance*.
*Auto Config Select function needs to be supported by the viewer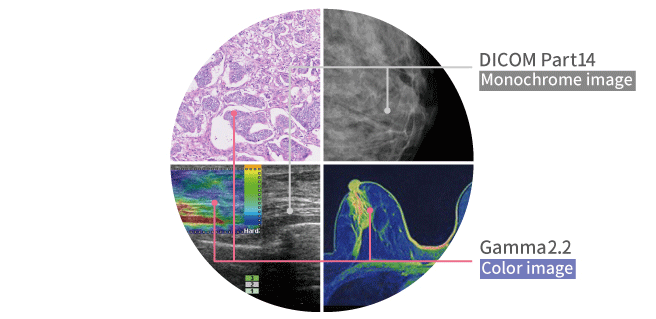 Focus on Details
Using Visual Point Mode, you can focus on the detail where you want to see. (4 options of area shape)
It can also be used in combination with the Turbo Luminance function.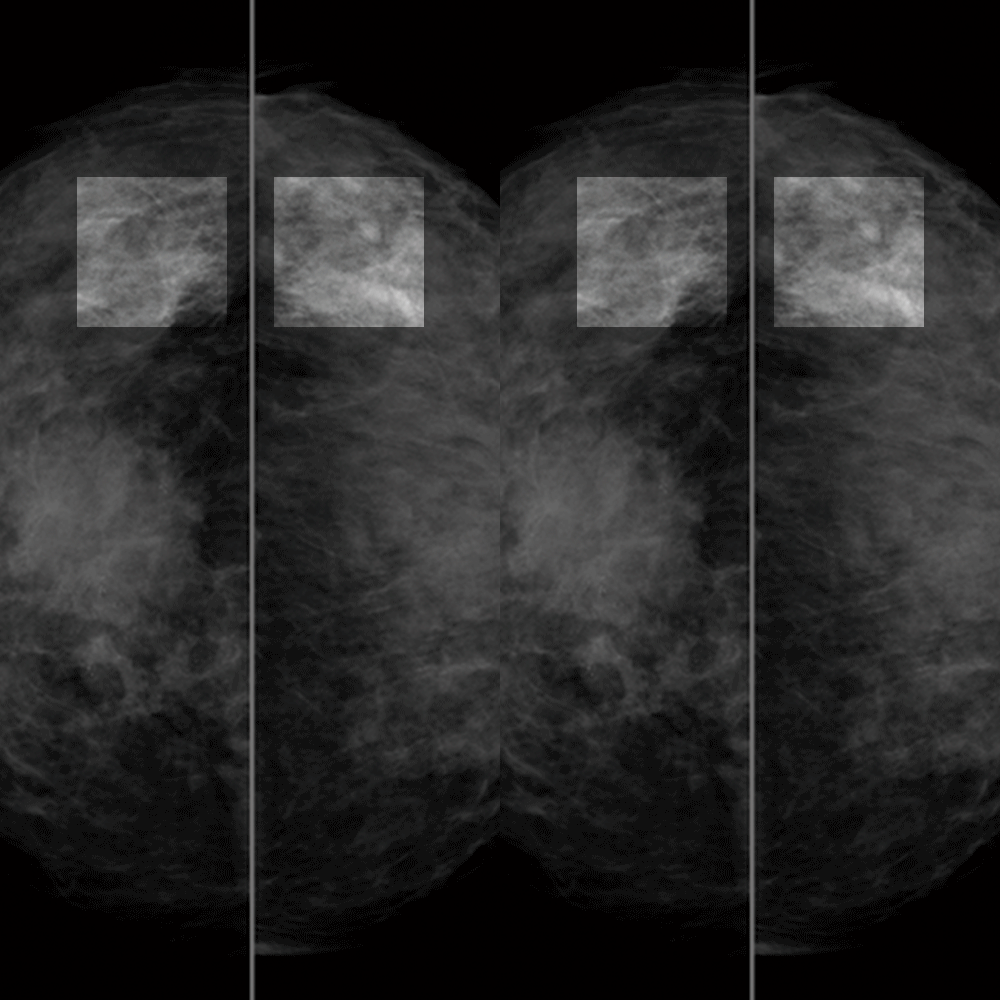 Improved Visibility
The Turbo Luminance function can boost screen brightness and contrast to the maximum of 30 seconds to magnify identifiable grayscale gradations, contributing to finding out low contrast lesions on mammograms.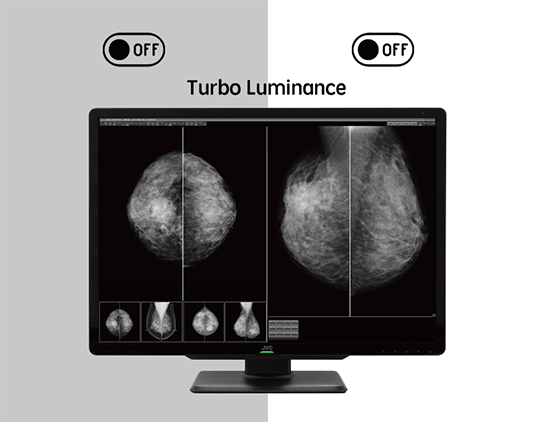 Reduce Eye Strain
A medical monitor usually comes with high luminance, which is not comfortable for text reading. With Auto Text Mode, brightness is automatically adjusted on patient lists and reporting applications to reduce eye strain.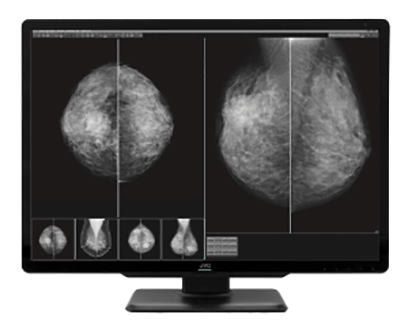 Stable Color
The stabilization system for luminance and color temperature can automatically adjust luminance and color temperature in real-time. The built-in Color Front Sensor on the screen realizes constant measurement of color temperature. It adjusts the color temperature changes due to long-term use that the movable front sensor cannot.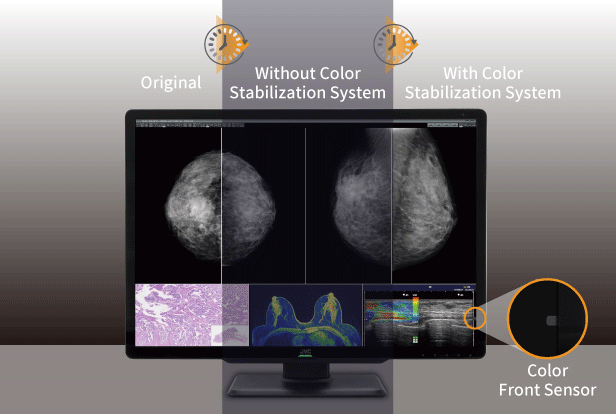 Integrated QA Solution
QA Medivisor Agent providing calibration and QA standard testing through a straightforward user interface effectively manages the daily operation.

*Optional calibration kit CAL-016 is required for standard QA testing.
Eye Comfort
The built-in Rear Light on the back of the monitor provides an eye-friendly environmental illuminance as indirect lighting. The built-in Reading Light on the bottom illuminates the keyboard and mouse. The brightness of both lights can be adjustable to support working in the darkroom.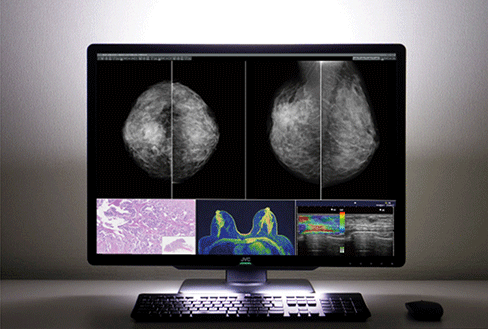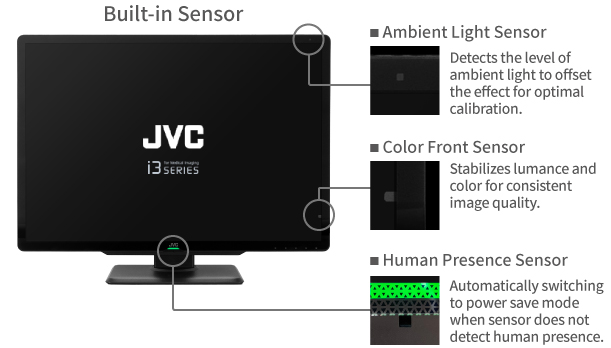 Easy to Keep Clean and Hygienic
An anti-reflection glass filter covers the surface of LCD. Noiseless design with few irregularities and gaps along with the wide-angle swivel, it is easy to wipe the main body to keep clean and hygienic.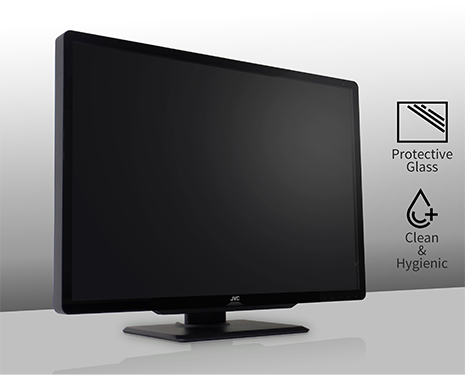 Space Saving
A 30.9-inch widescreen with a high resolution of 12 million pixels realizes 12% of space-saving than the use of two conventional model 5-megapixel monitors side by side, contributing to expanding the workspace on the desk.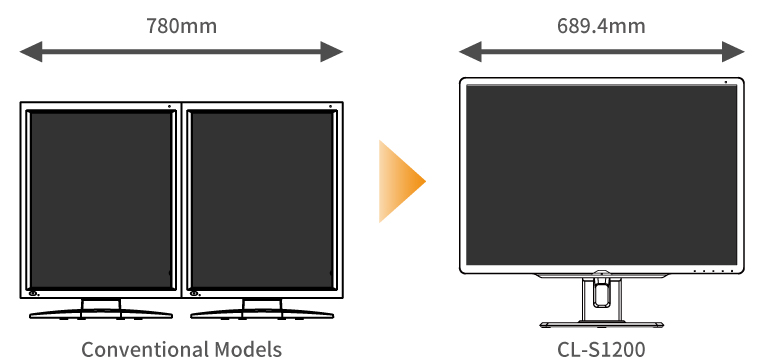 Simple Wire Management
CL-S1200 can display a 12-megapixel high-resolution image with a single DisplayPort 1.4a cable.* It's also applicable for two cables of DisplayPort 1.2. Owing to the DisplayPort, daisy chains can be realized for simple wiring connections. Also, a wire hole in the stand helps reduce the cable's load and raise, lower, rotate the screen smoothly.

*Special graphics card is needed.
What's Included

Display Controller (Graphics Card)

Calibration Software

Accessories
Docs & Drivers
Tech Specs
Manufacturer
JVC
MFG. Product Number
CL-S1200
Screen Type
Color
Resolution
12MP (4200 x 2800)
Screen Technology
30.9-inch, color, TFT, IPS technology
Backlight
LED
Active Screen Size (H x V)
25.7'' x 17.13'' (652.68 x 435.12 mm)
Ambient Light Sensor
Yes
Active Screen Size (DIAGONAL)
30.9'' (784.9 mm)
Pixel Pitch
0.1554 mm × 0.1554 mm
Viewing Angle (H, V)
178°
Backlight Censor
Yes
Calibrated Luminance
600 cd/m²
Max Luminance
1200 cd/m² (typical); 600 cd/m² (calibrated)
Contrast Ratio
1500:1 (typical)
Power Consumption
95 W
Video Input Signals
2 x DisplayPort (DisplayPort 1.4a compliant)
Weight
34.4 lbs (15.6 kg)