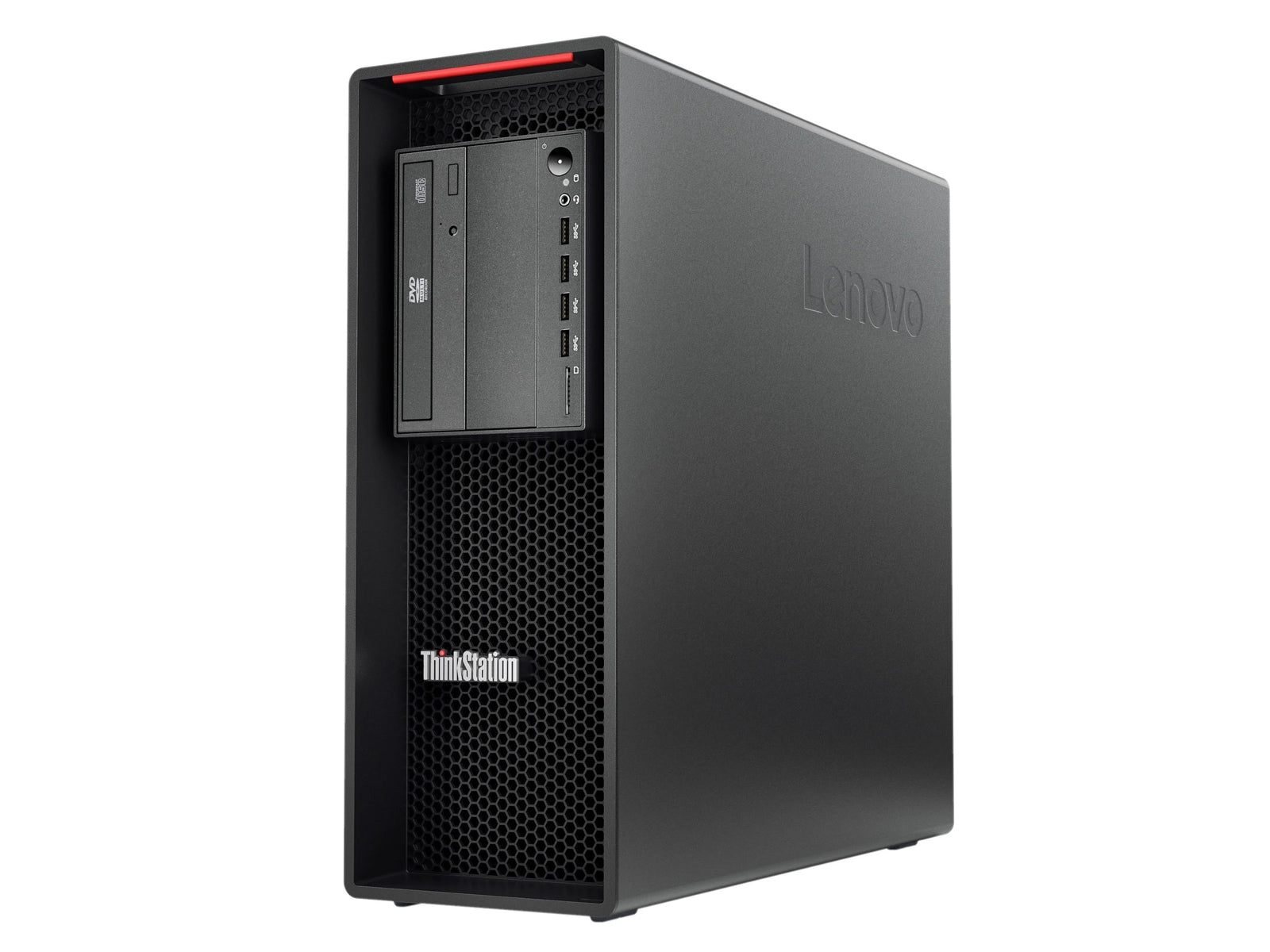 Lenovo P520-RadPro Workstation | Intel Xeon W-2295 @ 4.60GHz | 18-Core | 128GB ECC DDR4 | 1TB NVMe SSD | MXRT-6700 8GB | Win10-11 Pro
The Lenovo ThinkStation P520 Desktop Workstation stands as the paramount selection for radiologists and healthcare specialists in pursuit of a reliable, high-performance computing solution. It harnesses the formidable capabilities of Intel Xeon processors, offers a selection of premium-grade graphics solutions, incorporates DDR4 ECC RAM for data integrity, and incorporates cutting-edge cooling technology to cater to the specific needs of medical imaging and diagnostics.
---
Meet the Lenovo ThinkStation P520: A True Performance Champion for Radiologists
In the realm of radiology, where precision and efficiency are paramount, the Lenovo ThinkStation P520 emerges as an unwavering ally. With its seamless blend of lightning-quick computing power and professional-grade graphics, this workstation stands at the forefront of healthcare imaging technology. Boasting cutting-edge storage, memory, and cooling solutions, it tackles enormous workloads, complex modeling, and even virtual reality tasks with grace. Configurable to your unique needs and energy-efficient by design, this 33L workstation embodies a commitment to unmatched performance and unwavering reliability, making it the ideal choice for the discerning radiologist."

---
Unmatched Processing Power with Intel Xeon
The ThinkStation P520 is driven by Intel Xeon 3rd Gen processors, ensuring consistent, reliable performance for your medical imaging tasks. Say goodbye to bottlenecks and hello to seamless workflow efficiency. This workstation is designed to effortlessly handle even the most demanding healthcare imaging projects.

---
Precision Graphics Selection
Choose from a range of powerful graphics cards, including the AMD W series, Nvidia RTX and Barco® MXRT, to meet your specific visualization needs. Whether you're rendering 3D models or analyzing intricate medical scans, you can trust in the quality and performance of your graphics card.

---
DDR4 ECC RAM for Data Integrity
In the world of healthcare, data integrity is paramount. The ThinkStation P520 features DDR4 ECC RAM, ensuring the accuracy and reliability of your medical records and images even during intensive computational tasks.
---
Tri-Channel Cooling Technology
To ensure that your workstation remains cool under pressure, the ThinkStation P520 incorporates Tri-Channel Cooling technology. This advanced cooling system keeps your system temperature in check, even during extended use, safeguarding your hardware and maintaining optimal performance
---
Versatile PCIe Expansion in the Lenovo P520 Workstation

The Lenovo P520 Workstation offers a highly versatile and expandable platform with its PCIe slots. Featuring five PCIe 3.0 slots and a single PCI slot, this workstation provides ample room for customization and expansion. All these slots are fully active when utilizing a single processor, ensuring you have the flexibility to add specialized hardware, enhance graphics capabilities, or boost storage solutions as per your professional requirements. Whether you're a content creator in need of powerful GPU support or a data analyst seeking fast data transfer, the PCIe slots on the Lenovo P520 Workstation enable you to tailor your system for optimal performance and scalability.
---
Better for the Planet with Energy Star
We understand the importance of environmental responsibility. The ThinkStation P520 is Energy Star certified, consuming less power and reducing your carbon footprint, all while delivering the performance you demand.
---
Dimensions & Weight
1. Height: 446mm (17.6")
2. Width: 165 mm (6.5")
3. Depth: 455 mm (17.9")
Weight: 24kg (52.91 lbs, maximum configuration)
---
Ports & Slots
1. Optical-drive
2. Power button
3. Headset connector

4. USB 3.0 connectors (x4)
5. SD card slot
6. Mouse/keyboard connector PS/2
7. Optional serial connector
8. Ethernet connector
9. USB 3.0 connectors (x4)
10. Microphone connector
11. Audio line-out connector
12. Power-cord connector
13. USB 2.0 connectors (x2)
14. Audio line-in connector
15. PCI/PCIe card area
16. Key-nest slots
17. Security-lock slot
---
Monitors.com Exclusive Offer
When you purchase from Monitors.com, you not only receive a top-tier workstation but also benefit from our dedication to value and service. We understand the unique needs of healthcare professionals, and that's why we offer:
Advanced Hot Swap: Our Hot Swap capabilities ensure you can seamlessly switch out components without workflow disruption, guaranteeing uninterrupted productivity.
Next Business Day Standard Replacement: Count on our swift replacement service to keep your workstation running smoothly, minimizing downtime.
Free Shipping & Fast Delivery: We respect your time, offering free shipping and lightning-fast delivery to get you started with your workstation without delay.
Dedicated Support Team: Our team of experts is readily available to address any inquiries or issues, making your journey from purchase to setup as seamless as possible.
Competitive Pricing: At Monitors.com, we're committed to delivering exceptional value. You'll find our products competitively priced to fit comfortably within your budget.
Customer Satisfaction: Your contentment is our top priority, and we're dedicated to ensuring you're thrilled with your purchase. We're here to assist you at every step.
Invest in a Monitors.com workstation for not just top-tier hardware but a partnership committed to your success.
---
Tech Specs
Manufacturer
Lenovo
MFG. Part#.
P520
Processor
Intel Xeon W-2295 @ 4.60GHz | 18-Core
Memory
128GB ECC DDR4
Storage
1TB NVMe SSD
Graphics
MXRT-6700 8GB
Operating System
Win10-11 Pro
Weight
31.96 lbs (14.5 kg)